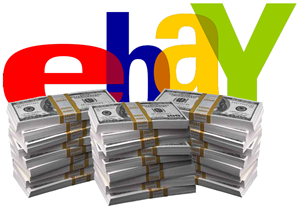 Popular items that SELL!
Antiques and collectibles

High-end designer purses, clothing, shoes, and accessories

Electronics (cameras, Ipads, gaming consoles, computers, etc.)

A laptop sells every 40 seconds! Dell, Mac, HP and more

Housewares

Event Tickets – Sports, Concerts, etc.

Jewelry and watches

Cars, Trucks Boats & Motorcycles

Entertainment memorabilia

Musical instruments

Sports equipment and memorabilia

Vehicle parts and accessories
We will accept any item if we find that there is an online market for your item and if it will sell for a minimum of $75-$100. So don't let another day go by. Clean out a closet, simplify your life and make some money while you're at it!
Sell Your Used Car or Boat With Edrop!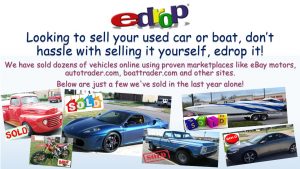 Those who buy a new or used car from a dealer usually trade-in their current vehicle as part of the transaction – mainly because it's convenient and easy. But this convenience comes at a huge cost.
If you sell to a dealer, you're getting wholesale value for the vehicle, whereas if you sell to a private party, you're getting close to retail value. The difference can be several thousand dollars.
It seems like a no-brainer, so why doesn't everyone sell their vehicle to a private party? Well, because it takes more time and effort – plus some view it as risky to invite strangers over. Moreover most buyers are reluctant to buy from an unknown seller
The solution? LET EDROP SELL YOUR USED CAR FOR YOU ONLINE!
We have sold dozens of vehicles online using proven marketplaces like eBay motors, autotrader.com, boattrader.com and other sites. Below are just a few we've sold in the last year alone!